Internship Opportunities in Community and Tribal Colleges
October 7, 2020 @ 11:00 am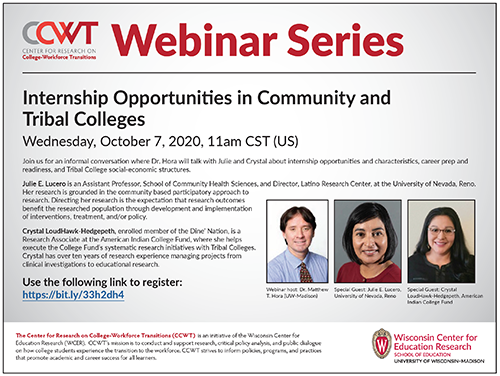 Wednesday, October 7, 2020
11am CST (US)
Special Guests: Julie E. Lucero, University of Nevada, Reno; Special Guest: Crystal LoudHawk-Hedgepeth, American Indian College Fund
Dr. Hora talked with Julie and Crystal about internship opportunities and characteristics, career prep and readiness, and Tribal College social-economic structures.
Julie E. Lucero is an Assistant Professor, School of Community Health Sciences, and Director, Latino Research Center, at the University of Nevada, Reno. Her research is grounded in the community based participatory approach to research. Directing her research is the expectation that research outcomes benefit the researched population through development and implementation of interventions, treatment, and/or policy.
Crystal LoudHawk-Hedgepeth, enrolled member of the Dine' Nation, is a Research Associate at the American Indian College Fund, where she helps execute the College Fund's systematic research initiatives with Tribal Colleges. Crystal has over ten years of research experience managing projects from clinical investigations to educational research.